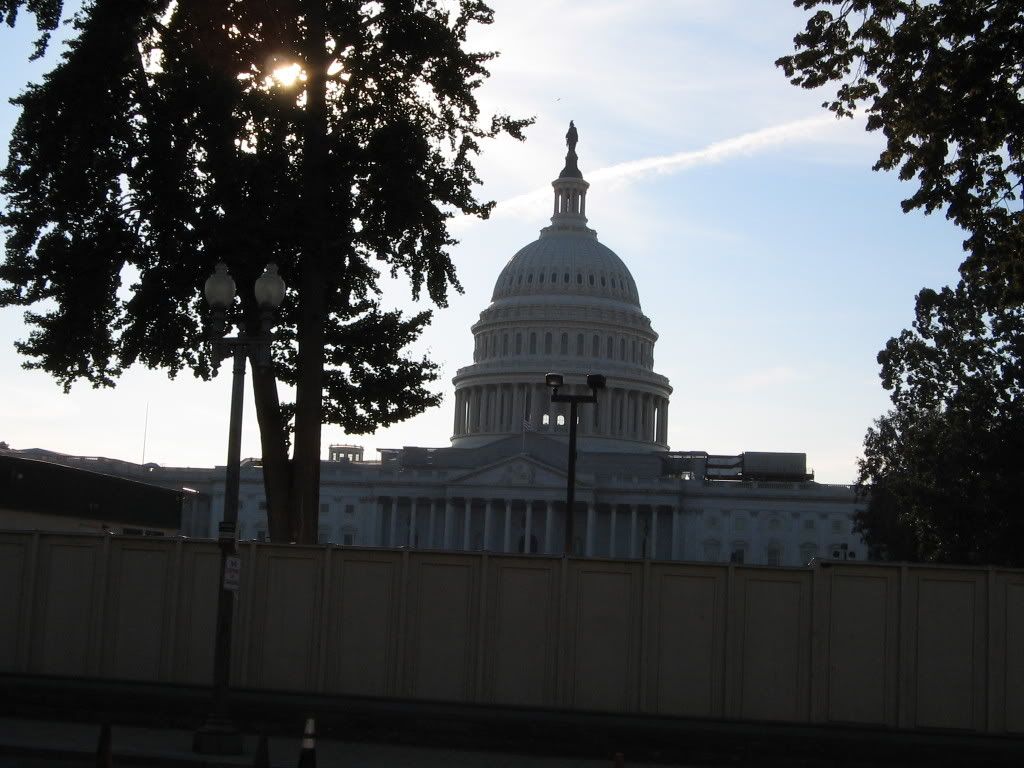 From Catholicgauze's office I can see the United State capitol dome, the National Basilica, Washington Monument, and the National Cathedral. If I get up out of my cubical and walk a few feet I can see the George Washington Masonic National Monument. These structures battle to impose their meaning on the Greater Washington landscape. The three sides are: Government, God, and the Hero of the Republic.
The first of three posts of this series will focus on the government's imposition on the landscape. The most noticeable building that I see from the office window is the United State Capitol dome. The dome catches one's eye and reminds the viewer of the permanence and dominance of the government. The symbolize of the dome is so recognized that it's completion was a key priority of President Lincoln during the Civil War. Lincoln wished that the dome would be proof to all that the Union was strong and rise above all other things.
On top of the dome is
Armed Freedom
. The statue is of a female carrying a sword and shield standing on a pedestal with the national motto. Freedom faces east so the sun will not set upon her.
The capitol itself is the heart of Washington. It is the origin point for the four divisions of the district: northeast, southeast, southwest, and northwest.
Finally, the capitol is much like other American federal government buildings in terms of architecture. The building is
neoclassical
in design. The style makes one think of the "pure and ancient" cultures of Rome and Greece.
The Capitol is one of the first things anyone sees as they enter DC. It serves as a reminder to all that Washington is the Federal City. However, it has competition...
To be continued