The
United States Federal Government clearly commands a distinctive height on the Washington skyline
. It has competition to its throne, though. The power of Heaven itself is imposed on the landscape with two mammoth buildings. These shrines to the divine are
the Washington National Cathedral
and the
Basilica of the National Shrine of the Immaculate Conception
.
The names alone show the power of the District of Columbia. Both churches have "national" in their names; a recognition of the power of the civil government which lies in the city.
The
Washington National Cathedral
is the home of the Episcopal Church of the United States of America. The architecture is English Gothic. It is meant to reflect English heritage and "glorious era" of enlightened, Protestant England. Episcopalians see this era as the genesis of the ideals which would eventually lead to American independence. These ideas include not only a faith in God but belief in "life, liberty, and the pursuit of happiness."
Episcopals have always had the tradition of being the church of American leadership. As such, the church in the past prided itself as "the church of America." The flags of the various states align the main hall. Symbols of the United States are set in the floor. The massive church is America and America is it.
The National Cathedral also shows its Americanness via its pop culture reference. One of the gargoyles on the outside is the
mask of Darth Vader
. The Episcopals show their Americaness and openness at the same time with that little monument.
The Catholic Church though has its own place on the skyline. The
Basilica of the National Shrine of the Immaculate Conception
is the biggest church in the Western Hemisphere and the eighth largest church in the world.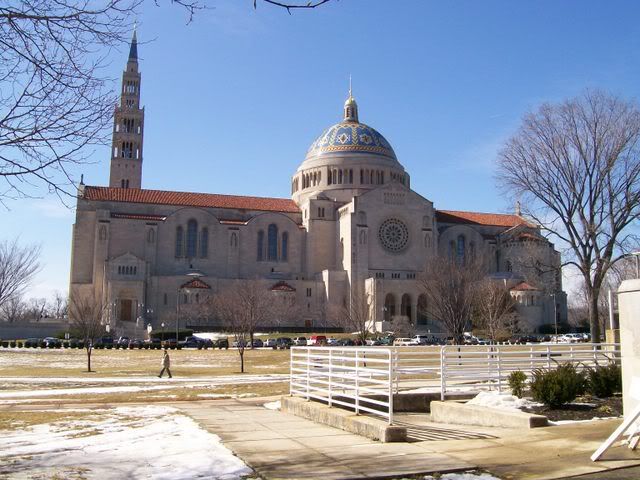 The basilica defines itself as America by being a melting pot itself. The design is part Italian, part Byzantine, part Celtic, part Levant, part French, and more. Inside there are various shrines to the Virgin Mary in different cultures. Everything from Our Lady of Lourdes to Our Lady of La Vang (Vietnam) to Our Mother of Africa can be found.
The basilica is not the seat of any bishop and therefore not the headquarters of any diocese of the Church. In the early 1900s Bishop Thomas Shahan proposed a shrine be built to the Virgin Mary who serves as patroness of the United States as proclaimed by Pope Pius IX. The plans called for a place of worship for all Catholic Americans.
Instead of being an American Catholic church the basilica is a Catholic church which reflects the various American cultural groups. Western Catholicism which came from Europe, Latin American Catholicism, and Eastern Rite Catholicism are all reflected by various icons, mosaics, shrines, and statues.
Government and religion have their places on the DC skyline. There is another religion however which combines both faith in a great and government. It is a secular religion of George Washington and it battles for its own place and meaning....
To be continued