Memorials, monuments, and interpretative centers are spots were generations create their own version of the past. To see a constructed image or text is not necessarily seeing how things were but how things were thought to be.
Recently I started some serious research about the Oregon Trail. Along the
Oregon National Historic Trail
I have found some interesting depictions of American Indians. Three interesting examples can be found in Topeka, Marysville, and Saint Mary's, Kansas.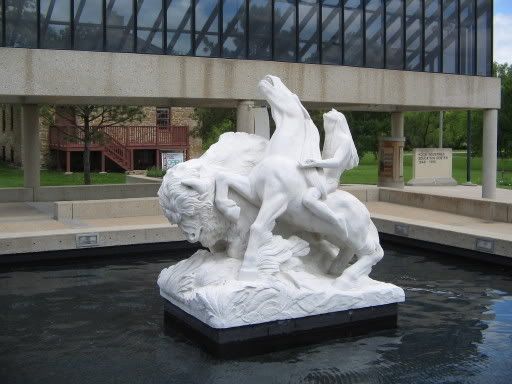 In Topeka there is a statue of an Indian along side a white buffalo outside the
Kansas Historical Museum
. The craving is called "The Great White Buffalo." This is something because the Indians in this region were Pawnee, Kaw, Pottawatomie, Kansas, and some others; but not
Sioux who believe in sacred white buffalos
. Either there was been cross-cultural adaptations of legends or; more likely, somebody believed all Indians are the same.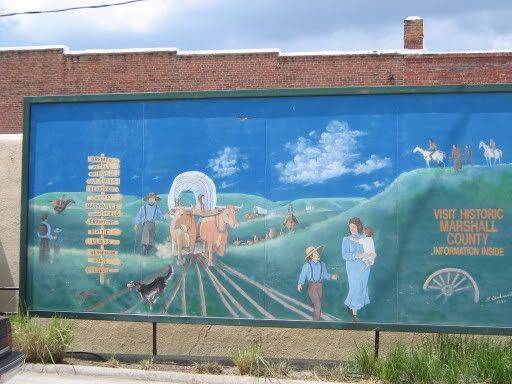 In the town of Marysville there is a mural showing pioneers on the trail. There is a father, mother and child, older child, and of course the family dog enjoying their trip to Oregon. On the hill there are some Indians observing the wagon train. That is it, just observing. While many Indians traded, helped, or hindered emigrants in real life these imaginary Indians are good for nothings just taking a passive role in history.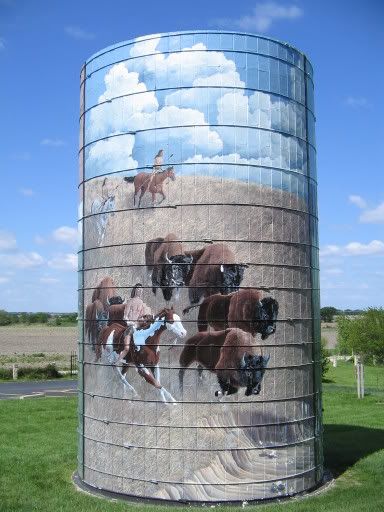 Outside of Saint Mary's,
base of the Society of Saint Pius X in Kansas
,
Westar Energy
operates the
Oregon Trail Nature Park
. The park is a nice collection of walking trails with some beautiful views of
Kansas
. However, the main attraction is a painted tower with depictions of the
Oregon Trail
imagined by some artist. There is the
emigrant family in green grassland
,
Bambi and friends in green grassland
, and the above photo of an Indian hunt in brown grassland. While the grass is more accurate of the region the painting is questionable. The use of paint on the horses also reminds me of distinctly Sioux designs.
The Indians are muscular, noble savage braves who are merely running the buffalo into a ditch while not using weapons. I guess blood and guts would not be family friendly.
Three examples of Indians, three different worlds.